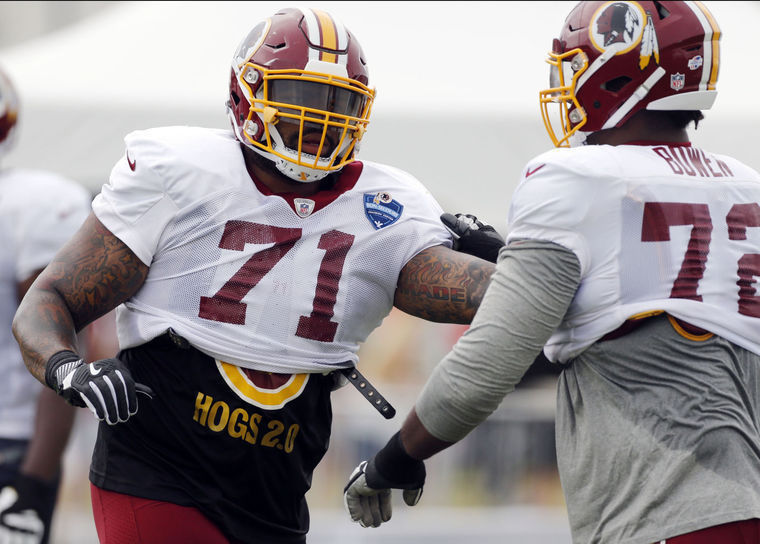 There have been very few graceful exits from Ashburn over the past decade.
Trent Williams, who once was a lock to be considered a Redskins legend, proved to be no exception.
A holdout that threatened to enter a second season ended Saturday when Williams, a Pro Bowl left tackle, was traded to the San Francisco 49ers.
In the end, neither side got what it wanted.
The Redskins had sought draft compensation commensurate with Williams' accolades. Instead, they settled for a fifth-round pick on Saturday and a third-round selection in 2021.
For Williams, the mega-contract he was holding out for didn't materialize either. He'll play out the final year of his contract for about $12 million in San Francisco, then hit the open market and attempt to get the $18-$20 million per year the league is paying other top tackles.
"I'm thankful this is over," Williams wrote in a text message. "I thank Dan Snyder and the organization for all they've done for me. Still a lot of love for the fans and that locker room."
If Williams is able to produce at a high level after a year away from the game, the 49ers could be the deal's biggest winners. San Francisco left tackle Joe Staley, one of the league's best over his 13-year career, announced his retirement on Saturday shortly after the deal was completed.
In Williams, 49ers coach Kyle Shanahan will be able to replace Staley with a comparable player. Shanahan's father, Mike, originally drafted Williams in Washington with the team's first pick in the 2010 draft.
Things soured when Williams had to undergo surgery to remove a growth on his head last spring — he said team doctors were negligent in their treatment and care.
A standoff ensued that led to one of the most surreal moments in a season full of them — Williams reporting to the team midway through the season so his year of service would count, then blasting team president Bruce Allen to reporters in the Redskins locker room.
With Allen fired, new coach Ron Rivera failed to patch things up with Williams, whose trade demands only grew louder after Rivera dealt cornerback Quinton Dunbar, another player who was unhappy with his contract.
Leading into the draft, Washington had lined up a number of trade partners, but those deals were dependent on teams not taking a left tackle during the draft's first rounds, when the top prospects are available.
First, a deal with Cleveland fell through, as the Browns took Alabama tackle Jedrick Wills Jr. with the No. 10 overall selection on Thursday.
Then the Tampa Bay Buccaneers, another win-now team that needed tackle help, also drafted one — Iowa's Tristan Wirfs.
Finally on Friday night another major domino fell, as the Minnesota Vikings took Ezra Cleveland of Boise State. Multiple reports suggested that the Vikings had a deal in place for Williams, but he blew it up by telling Minnesota he wouldn't play without a new contract — something the Vikings weren't willing to do.
The Redskins will go into the season trying to find the best fit at left tackle — Geron Christian was drafted by the team three years ago, but hasn't developed as they hoped. Rivera also signed veteran Cornelius Lucas in free agency this season as a potential stopgap measure, and Washington drafted LSU's Saahdiq Charles in the fourth round on Saturday.
Be the first to know
Get local news delivered to your inbox!