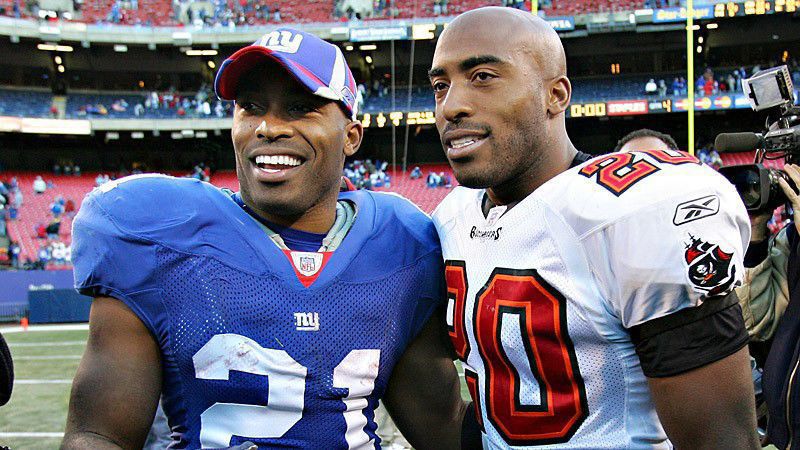 Of the 326 honorees since the Pro Football Hall of Fame was founded in 1963, no two have been brothers.
Clearly, the odds would be astronomical for twin brothers.
The best bet would be the Matthews brothers — offensive lineman Bruce and linebacker Clay Jr., considering that Bruce was enshrined in 2007.
Clay Jr. is a four-time semifinalist in the Modern-Era category, where his competition includes three-time semifinalist Ronde Barber.
Barber, a cornerback for the Tampa Bay Buccaneers during his 16-year career, is the twin brother of former New York Giants running back Tiki Barber.
The Barbers played at Cave Spring High School before going to the University of Virginia, where each was a two-time, first-team All-ACC player.
Tiki Barber was a second-round draft pick of the New York Giants in the 1997 NFL Draft and Ronde was a third-round pick of the Tampa Bay Buccaneers that same spring.
At the time of his retirement in 2013, Ronde Barber had been chosen to play in five Pro Bowl games and was named to the NFL's All-Decade team for the 2000s.
He joins Charles Woodson as the only defensive backs to have at least 40 interceptions and 20 quarterback sacks in a career.
"It's not even a conversation because of the durability and uniqueness of his role," Tiki Barber says of his brother's hall of fame credentials. "The fact that some of these guys are getting in is laughable to me.
"When [Ronde] started playing in that Tampa Two defense, which put a huge emphasis on the slot cornerback, that third cornerback became invaluable.
"There were seasons when Ronde had 100 tackles. He had — what ? — 28 sacks in his career. He was asked to do so much. Now, if you look at that position, it's one of the most valuable."
Ronde Barber had 47 interceptions in his career and finished with 14 non-offensive touchdowns.
That included an interception return for a touchdown in the 2003 NFL championship game.
"It defined a legendary career and the changing fortunes of a once-fledgling franchise," former scout and analyst Luke Easterling wrote for SI.Com.
Ronde Barber, joined Tampa Bay's ring of honor in induction ceremonies this past fall.
He's waiting his turn on the Pro Football Hall of Fame.
"To me, I think it's an eventuality," said Ronde, who has done television and radio commentary since retiring. "That's from guys who are in the room, voters who I know. Every year it gets harder and harder.
"As the years have gone on, the number of great players that have become eligible grows. Peyton Manning becomes eligible this year, Charles Woodson become eligible, Calvin Johnson's a first-ballot.
"Obviously, not all of them will [be selected], but it leaves so few spots for guys who have been on the list and I haven't even been a finalist yet."
What could help his chances are his numbers when compared against other defensive backs. For example, Woodson had 866 tackles in 18 years and Barber had 1,251 in 16 years.
If it comes down to numbers, it's hard to discount either of the Barbers.
Tiki Barber is the all-time leading rusher in the history of the New York Giants, one of the NFL's most storied franchises. He finished his career with 10,449 yards on the ground, more than Giants hall-of-famers Alex Webster and Frank Gifford had combined.
A favorable comparison for Tiki Barber is former NFL running back Edgerrin James, who will be enshrined in Canton, Ohio later this summer.
James had 15,610 yards from scrimmage (counting receptions) in 11 years while Barber had 15,632 yards in 12 seasons. James rushed for 159 yards in 20 games over his last two seasons; Barber rushed for a franchise-high 234 yards in his final game.
"It's all about someone creating a narrative for you," Tiki Barber said, "and, if they create one against you, then you aren't going to get in. It's kind of crazy.
"You know why I retired. I got wrapped up in so many other things, whether it was the media … for the Today Show and traveling around the world."
"Shimon Peres invited me to Israel and I had lunch with Condoleeza Rice. All these different things were becoming more interesting to me."
Tikie is the co-host of the "Tiki and Tierney," which airs on CBS Sports Radio and is simulcast on CBS Sports Network, and is on numerous boards, including Thuzio, an online marketplace he co-founded that books appearances for athletes.
There was another reason for leaving football when it appeared he was on top of his game.
"I was getting crap beat out of me," he said. "The running back position hadn't evolved into what it is now. I was getting 400 touches a season and getting all beat up.
"I didn't want to get crippled. I was durable but I wasn't a big guy."
Barber pointed out that there are three players in NFL history who have rushed for more than 10,000 yards and had more than 5,000 receiving yards in a career.
He's one of them. The other two are Marshall Faulk and Marcus Allen.
"That seems like an easy club to get into," Tiki said, "but it's not."