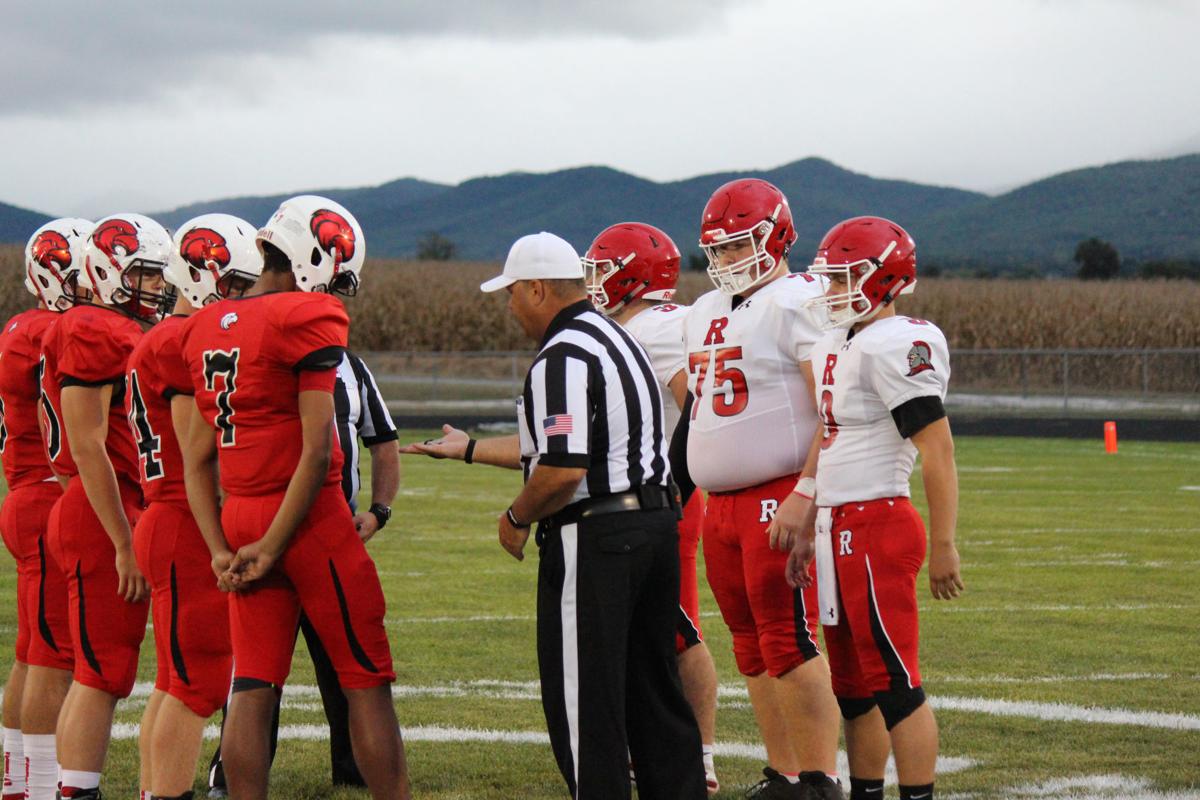 With the return of high school sports in Virginia roughly two months away, uncertainty still remains as ways to not only make it safe, but equitable to all those involved.
Virginia High School League leaders are meeting with officiating associations throughout the commonwealth this week to help develop a mitigation plan with regards to keeping its members safe during the COVID-19 pandemic.
Marty Fontenot, the president of the Piedmont Basketball Officials Association, said that commissioner David Utz was slated to sit in on Monday's monthly athletic director's meeting to give feedback regarding concerns facing his officials and how it relates to the VHSL's mitigation return to play plans. Utz also is awaiting similar guidance from the Virginia Independent Schools Athletic Association.
"The biggest factor is we are waiting to see exactly if or what VHSL's official guidelines will be in regards to return to play," Fontenot said. "We've been doing some prep, but have been awaiting the outcome of the meeting to see if we are able to get a better sense of expectations and guidelines. Right now, until we know more information, we have been coming up with brainstorming options, trying to anticipate any and everything that we can."
Fontenot said the VHSL guidelines will serve as a baseline for his officials, and they will odd additional protocols as needed to mitigate risks to officials. One of the major topics of discussions are the use of face coverings by officials.
"We're still trying to figure this out," he said. "We will also be looking to the collegiate levels guidelines and protocols in regards to face coverings. We have a few guys who work college [games] and they have been able to provide us with useful information on the plans the college level is taking. They too, just like us, are not quite sure exactly what their protocol will be. As a minimum, we will definitely be wearing masks. We are investigating the best options at the moment, again, looking for any feedback from levels of play that are currently using masks or will be using them before our season starts on Dec. 21. My guess is that there will probably be some minimum guidelines statewide with each association, organization, district being able to supplement as needed."
Another big concern is the use of electronic whistles instead of traditional ones to prevent blowing droplets in the air. Fontenot said his organization supports them, but admits they come with some concerns.
"The biggest one is availability. Everyone is trying to order them and they have been on backorder since August, we're hoping they'll be here by December," Fontenot said. "Another challenge will be the learning curve in using a hand-held whistle. It's just going to take some time to get used to it. There are some concerns about the volume of the whistles, but everyone who has used them so far has said they are plenty loud."
Another concern is the health and fitness of the officials. Fontenot said his officials are required to go through preseason training and meet every two weeks as an association to give updates on training. In addition to passing the officials exam every year, he said this year they are "strongly encouraging" their officials to make sure they have an extensive physical by their doctors prior to the season to make sure they are in good health.
"We do this every year, but just a heightened awareness this year," Fontenot said. "One of our biggest concerns is the health of our officials in regards to having to wear masks while running, meaning from being in shape, per se. We are encouraging our officials to start to get used to wearing masks during their preseason fitness training prep."
Fontenot said another issue for his officials is the lack for court time.
"Our biggest difference is meeting online and not in person," he said. "This presents the challenge of not being able to get out on the court and physically work on training, which is tougher to do online, especially for new officials. We are having to use a ton more video training this year, versus getting out on the floor."
Charlottesville resident Alex Inman has officiated high school basketball in Central Virginia for a number of years and said part of his offseason training this season included watching how NBA officials handled the situation during the playoffs.
"I think it was beneficial to be able to watch the NBA in the bubble well into October, because normally there isn't basketball on television during this time and you don't get the chance to watch the officials, which is what refs do when they are watching a game," Inman said. "Obviously, the NBA is a totally different game in so many ways, but refs learn from watching other refs. With the NBA, I tell newer officials to watch their positioning, their communication with players and coaches, not just their calls."
Interactions with coaches and players also is going to be a hot topic issue this fall. VHSL associate director Tom Dolan warned athletic directors during a recent webinar that this could be a problem.
"Coaches are going to need to control their emotions," Dolan said. "It is definitely one of the items that concerns us the most. We do have older people involved in the process. Any way we can mitigate those situations, we need to do so."
Fontenot said he's taken this a step further.
"We are urging our officials to limit, if not eliminate, the 1-on-1 communication with coaches and players within six feet, as much as possible given the nature of officiating a basketball game," he said. "The reality is that some officials will feel more or less comfortable getting close to coaches and players than other officials, but as a policy of wise health practices, we are in line with Mr. Dolan in limiting prolonged discussions with coaches, especially within close proximity."
"How well coaches, players and officials can communicate is one of the biggest questions I have," he said. "A lot depends on who's wearing a mask, right? Coaches, refs, both? It's easy to picture a scenario of a ref and a coach trying to discuss a call, but neither can hear the other all that great because everything's muffed. Yes, I think not just restraint, but patience in general may be needed this year and that will require adjustments for all. Everyone's competitive and trying to win and usually patience isn't at the top of anyone's list of priorities."
Accommodations at schools also are a top priority for Fontenot.
"Will the officials meeting/changing areas be large enough to allow social distancing?" Fontenot said. "How are we going to keep the ball sanitized since this is the one object that everyone touches? The use of multiple balls, consistently cleaning or wiping it throughout the game. Will there be fans allowed for games? How close will they be to the floor? Contact tracing for officials who worked a game in which someone in the gym at the time of the game ends up with a positive test?
Another issue could be communication come playoff time when teams from different areas play.
"If there is an out-of-town team that comes in from a high-risk or high-outbreak area of the state let's say, will we as officials be given the head's up about this," Fontenot said. "Will there be extra precautions taken by the school?"
These concerns aren't only limited to basketball. Walter Trainum of the Piedmont Valley Football Association was set to meet Monday to discuss many of the topics presented. He said some of his crews have worked private school games this fall and it's still a work in progress.
"Each administration has handled games and expectations from our officials in their own way," Trainum said. "There is no set protocol concerning these contests."
Whenever the players and officials get back on the court, everyone agrees that it will definitely be different. Fontenot spoke with officials that worked games during the pandemic and the response has been positive.
"They all said the 'vibe' was certainly different as everyone was very cautions with plenty of guidelines to adhere to, but just so happy to be playing that they were willing to adhere to any and all guidelines," Fontenot said. Some had games with limited fans, some had games with no fans. This is really not as big of a deal as most officials are used to working summer camps, with little to no fans."
Be the first to know
Get local news delivered to your inbox!