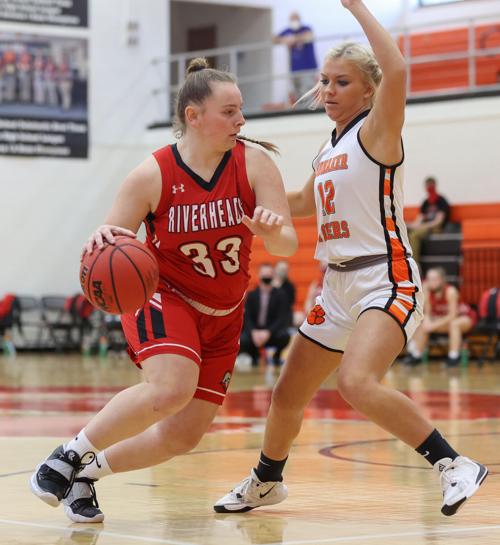 HONAKER — The tiger didn't toy with its food on this day.
Honaker pounced on Riverheads with a 30-point, first-quarter attack, and the shell-shocked Gladiators never recovered from the lightning-quick strike, succumbing 81-56 to the Tigers on Sunday in the Class 1 girls basketball state championship.
The Tigers, playing in their friendly home den, unleashed a 3-point barrage in the first quarter that would have made college and pro teams envious. Honaker drained six bombs in the opening eight minutes, a couple from the volleyball spike line running through the tiger paw (think Clemson) extending from mid-court.
If the bombing wasn't enough to demoralize the Gladiators, their three first-quarter turnovers were turned into six points at the other end.
By the time the first quarter mercifully ended, Riverheads (10-6) found itself in a 22-point canyon, looking up at a 30-8 deficit. In tennis terms, that was game, set and match.
Honaker, who was declared co-champion last year when the state tournament was canceled before the championship game with Surry County because of COVID-19, made sure there was no doubt this season by finishing unbeaten at 14-0.
The Tigers hit 14 3-pointers in the game, which were three short of tying the state tournament record. It did tie Oakton, which drained 14 in a game against Princess Anne.
Senior Akilah Boyd drilled half of the Tiger bombs, finishing with 21 points. Halle Hilton had five to help account for her 23 points.
Riverheads head coach Preston Woods was left wondering what hit his team, which was playing in the school's first state championship game.
"Have you every seen any team hitting 3s like that?" Woods was asking anyone in earshot after the game. "One of the referee told me he has been calling games for 30 years and never has seen anything like it."
The Gladiators came out in a zone, which Honaker promptly torched from all angles.
"There was no way we could have played them man with their quickness," Woods said. "What do I do because we simply couldn't match up? They just had too many threats, and I certainly didn't expect them to shoot the ball like that."
Woods did wonder if the Tigers would have shot the ball that well in the wide-open Siegel Center instead of playing in their own gym. Teams notoriously have trouble with their outside shooting in the open confines of the Siegel Center. The state tournament during this condensed season was played in high school gyms because of the pandemic.
Honaker had hosted its weather-delayed state semifinal Friday, beating George Wythe-Wytheville 53-47.
"I have a little trouble with traveling four hours to play a team that was able to stay home and rest on its home court," he said. "But that is just the way this season was. At least we got to play."
Riverheads enjoyed leads of 2-0 and 4-3 before the Tigers' 3-point display fully caught fire. Honaker outscored the Gladiators 27-4 over the final six minutes of the first quarter. Hilton and Boyd each had a trio of bombs in the period.
Besides the costly turnovers in the opening eight minutes, the Gladiators' shooting woes returned in full glory, hitting just 7 of 30 shots in the first half.
"I knew sooner or later that was going to come back and bite us in a big game," Woods said.
It only got worse for the Gladiators in the second quarter. Honaker used a 12-0 blitz that opened a 42-10 advantage, and the Tigers settled for their biggest lead of the game, 49-16, at halftime.
The Tigers face-guarded Riverheads outside scoring threat Hannah Grubb, holding her scoreless until late in the first half when the score stood at 42-10. Grubb had tied a school record with eight 3-pointers in the state semifinal rout of Mathews. Honaker wasn't about to let that happen to it.
Riverheads took away one positive by outscoring the Tigers 40-32 in the second half.
"We battled all the way, but Honaker deserved the win the way it played," Woods said. "I knew the girls would never quit. We used the second half to continue to build good citizens, which is important for the rest of their lives."
Grubb finished her career with a 22-point performance, 18 coming in the second half. Mackenzie Sacra added eight points.
RIVERHEADS 56, HONAKER 81
RIVERHEADS (56) — Sellers 1 1-4 3, Crawford 2 0-0 4, Sacra 4 0-0 8, Massie 3 0-0 6, Moore 1 2-4 5, Campbell 1 2-2 4, Grubb 9 2-6 22, Tyree 1 2-2 4, Chandler, Davis, TOTALS 22 9-18 56.
HONAKER (81) — Hilton 9 2-2 23, Nolley 0 2-2 2, Miller 1 0-0 3, Boyd 7 0-0 21, Vance 3 0-0 7, McClanahan 2 0-2 4, McNulty 6 6-9 18, Hart, Stevens, TOTALS 28 10-15 81.
RIVERHEADS 8 8 18 22 — 56