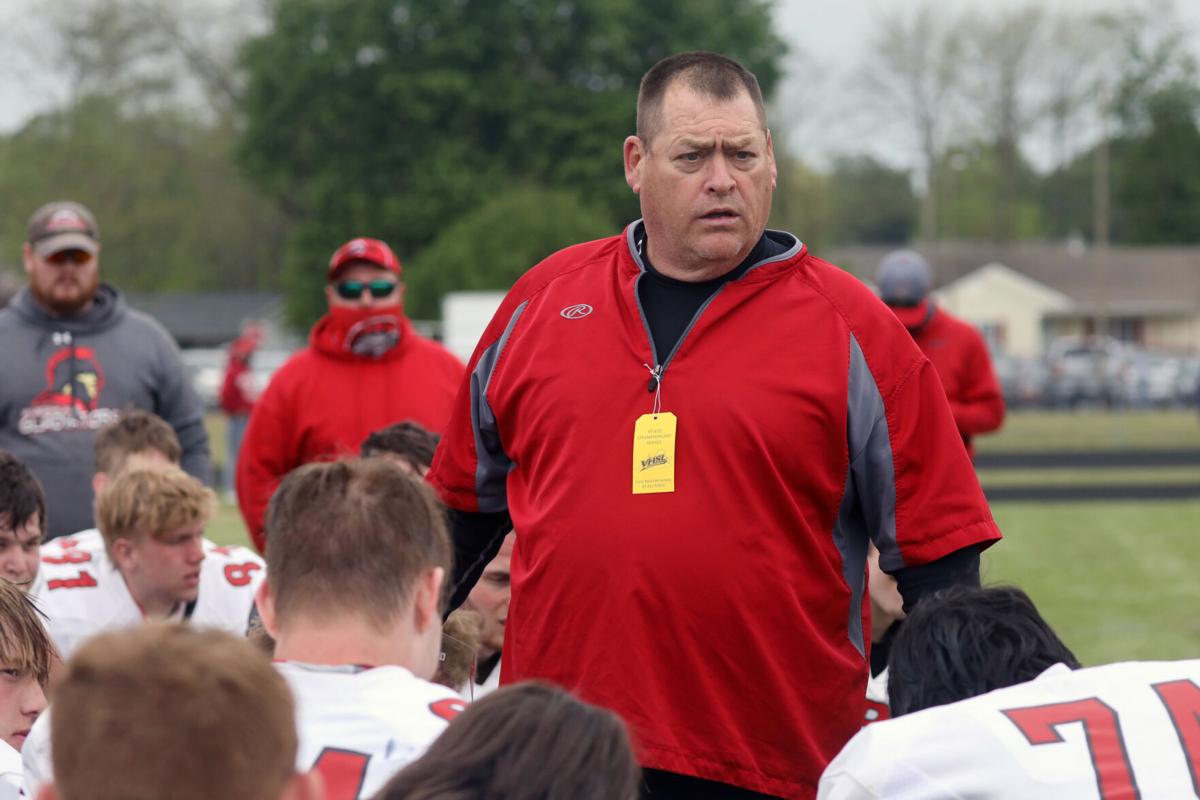 GREENVILLE — Galax vs. Riverheads has become appointment viewing when the state football playoffs roll around, especially on Championship Saturday.
The Maroon Tide and Gladiators have each navigated the abbreviated 2021 season undefeated to once again be the final two teams left standing for the Class 1 title.
Saturday's showdown marks the second straight season and third time since 2015 the two powerhouses have collided for all the marbles. The Gladiators won their fourth consecutive championship in 2019 by escaping Galax 31-24 at Salem Stadium. In the 2015 clash, the Maroon Tide stopped a two-point conversion pass after Riverheads had scored on the game's final play for a 7-6 victory.
That loss in 2015 was the last time Riverheads has fallen to a Class 1 team, but to be clear, the Gladiators usually don't have many Class 1 schools on their schedule during the regular season.
Galax and Riverheads met in the 2016 state semifinals on the Maroon Tide's home turf, and the Gladiators got their revenge with a dominating 63-21 victory. That win jump-started Riverheads on its current run of four straight titles.
Riverheads will be out to make state history Saturday as no VHSL football program, regardless of classification, has won five titles in a row. Hampton, Phoebus and Highland Springs each reached four. The Springers had their bid for No. 5 stopped in 2019.
In the last five years, the numbers Riverheads has produced are way beyond gaudy. The Gladiators are 62-4, outscoring the opposition 2,882-705. That averages out to 43.7 vs. 10.7.
That is a far cry from the early days of Robert Casto's head-coaching era when he lost his first 13 games and was 3-17 in the first two seasons. He made the playoffs in the third season. By comparison since 2012, the Gladiators have lost only 10 games.
Casto, who is seeking his eighth overall championship at the school, said it feels good to be making a sixth-straight trip to the final game.
"That is our goal every year is to make the last possible practice and play for a championship," he said. "The kids have been able to attain that the last few years."
But Casto isn't getting caught up in all the hype.
"It is business as usual for us," he said. "That is how we approach every week whether it is the first week or the last."
The Riverheads head coach is impressed with what he has watched from this edition of the Maroon Tide, who have only seven seniors on the roster.
"They have a really diverse offense," said Casto, who has a 44-14 career playoff record. "The quarterback throws a lot. They can run or throw equally. We have not played anyone that does both of those things so well. We are going to have our hands full with that offense."
Casto said defensively the Maroon Tide have a stout front five.
"They have a lot of the same guys we played against in 2019, but they are bigger and stronger.
"The last game against them was a toss up, and it will be a toss up again Saturday. Galax is every bit as good or better than the last time we played," he said. "It will come down to who makes the fewest mistakes and who mentally stays in the game."
Galax's focal point is quarterback and defensive back Cole Pickett, whose accepted a walk-on offer from Virginia Tech. Pickett has started 52 games in his four years under center. In nine games this season, Pickett has passed for 1,165 yards and rushed for 413, while accounting for 27 touchdowns, 15 of those coming through the air. On the defensive side, he has three TDs, all coming after interceptions.
Pickett has plenty of other offensive weapons in Keaton Beeman, Javonte Reeves and Ian Ashworth. Beeman has 600 yards on the ground and five TDs, while Reeves has rushed for 341 yards and four scores. Ashworth has been on the receiving end of seven scoring strikes from Pickett.
Even though the Gladiators beat West Point 52-8 last Saturday in the state semifinals, Casto saw things that needed cleaning up.
"We weren't terrible, but there were a few little things that needed addressing," he said. "That was only our ninth game in a normal season, and we were making some mistakes that we did early. I keep saying we are still a work in progress, but there is no more progress after this week."
Riverheads will be playing a state championship game on its home field for the first time, but Casto isn't convinced that will be a big factor.
"The surroundings will be familiar, but will it be an advantage or not, I don't know," he said. "It is a football field just like any other football field."
And definitely don't expect Casto to go rogue and start making a lot of last-minute changes. Seven championships and in the position for No. 8 says it all.
"We keep doing the same thing every day," he said. "There is no Plan B."