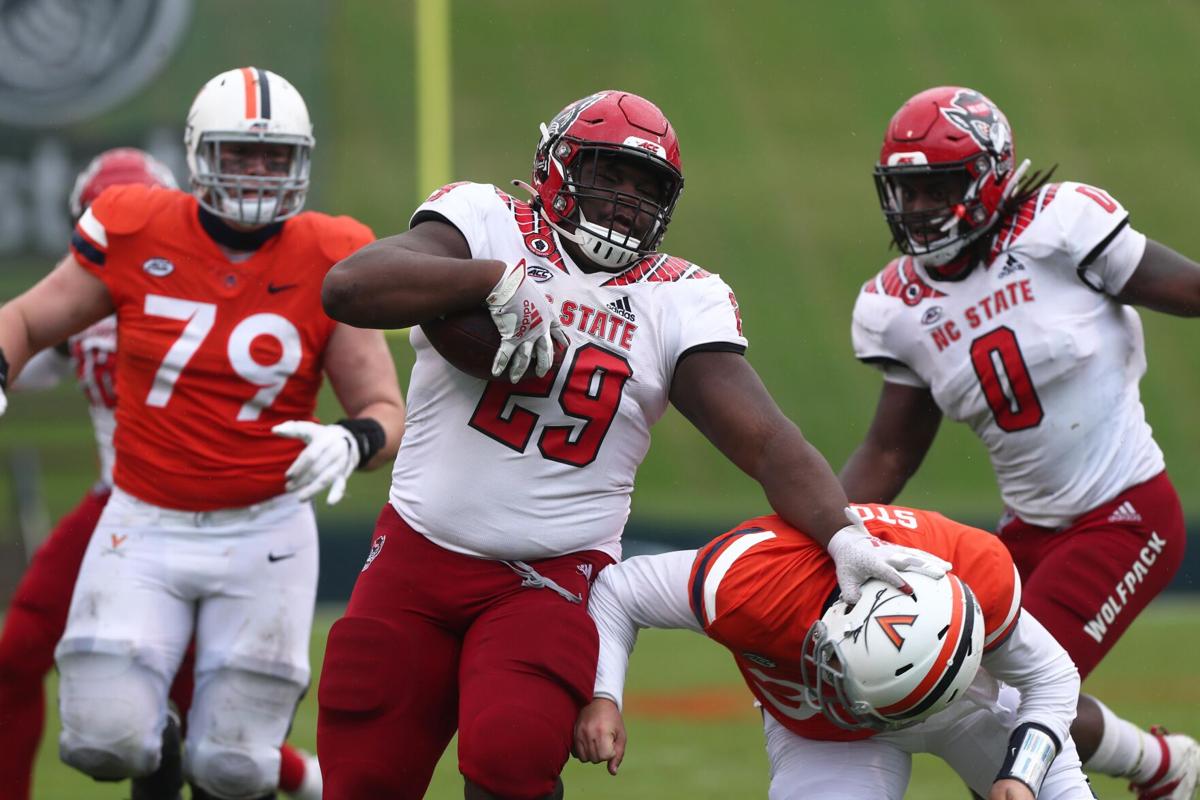 CHARLOTTESVILLE — Lindell Stone's pass floated in the air after being deflected by N.C. State nose tackle Alim McNeill, holding Virginia's chance of a comeback with it.
The ball dropped into McNeill's arms after he tracked his deflection, and he stumbled into the end zone for an interception return touchdown.
The touchdown from the 320-pounder summed up a forgettable game filled with uncharacteristic mistakes for Virginia and gave the Wolfpack a commanding 31-14 lead in the final quarter.
A week after what felt like a moral victory against Clemson, the Cavaliers (1-2, 1-2 ACC) committed four turnovers, were stuffed on a fourth-and-goal, had a punt blocked and saw starting quarterback Brennan Armstrong leave with an injury in a 38-21 loss to N.C. State (3-1, 3-1 ACC).
"Lots and lots of things that can be improved from where I thought we were, and today made it clear that we weren't as far along as I anticipated," Virginia head coach Bronco Mendenhall said.
It was a dysfunctional showing from a team that showed promise in the first two games of its season. The defeat ended the Cavaliers' nine-game home winning streak.
Virginia entered Saturday determined to start fast. Mendenhall's group wanted to rid itself of the slow starts that plagued it throughout the first two games of the fall.
Instead, the Wahoos posted their worst first-half showing of 2020.
After dodging a bullet early — a 34-yard touchdown strike from N.C. State quarterback Devin Leary to wide receiver Porter Rooks was overturned by replay and the subsequent field goal clanged off the crossbar — the Cavaliers faced a rapid-fire attack from the Wolfpack.
Using an up-tempo scheme, N.C. State turned an Armstrong interception into six points. Leary, despite drawing a roughing the passer call, hit Rooks for a 25-yard gain to move deep into Virginia territory. Leary, fresh off a four-touchdown showing against Pitt, found Trent Pennix for a four-yard touchdown.
The Wolfpack reached deep into their bag of tricks after a Virginia three-and-out.
A few flips in the backfield kept the defense's eyes engaged, while the ball made its way back to Leary. The quarterback lofted the ball over the defense to a streaking Cary Angeline. The tight end made the catch, stumbled a bit and rumbled along the left sideline for the 32-yard touchdown.
N.C. State led 14-0 after the first quarter, pushing UVa's first-quarter scoring margin to minus-34 this fall.
"We just gotta come out and execute better," sixth-year defensive end Richard Burney said. "It's just as simple as that. It's nothing other teams are doing. All of it is totally in our control, so moving forward we gotta focus on starting fast as a team."
Armstrong and company seemed to break out of their funk entering the second quarter. The Wahoos drove into N.C. State territory and seemed to score a touchdown on a five-yard rush from Wayne Taulapapa. The touchdown was overturned upon review, and the Cavaliers were stuffed on third and fourth-down runs from Armstrong.
Dave Doeren and the Wolfpack responded by scoring the next 10 points of the half, taking a 24-0 lead on a 36-yard field goal from Christopher Dunn after an Armstrong interception and a 35-yard touchdown rush from dynamic running back Zonovan Knight.
UVa answered after Armstrong was knocked out of the game on a targeting call on N.C. State.
Stone entered the game, engineering a nine-play, 75-yard touchdown drive to cut the halftime deficit to 24-7. The drive ended on Billy Kemp IV's first touchdown reception of the season.
"There wasn't really a whole lot of time to think," Stone said of taking the field. "You just kind of grab your helmet, I think I gave my script to [Virginia quarterbacks] coach [Jason] Beck and ran onto the field. Not a whole lot to think about, just gotta go out and do your job."
Mendenhall's team avoided disaster in the second half, intercepting a pass in the end zone following a blocked punt deep in its own territory.
A few possessions later, the Wahoos reached N.C. State territory after three productive runs from Shane Simpson. His third run of the drive ended in a fumble, however, thwarting the threat.
Virginia manufactured momentum in its next possession, using a Nash Griffin pass to linebacker Nick Jackson on a fake punt to move into N.C. State territory on the 26-yard gain. Stone found Tony Poljan for a one-yard touchdown after a 20-yard strike to Kemp IV put the Cavaliers on the goal line.
Unfortunately for the Wahoos, it was a mistake-filled Saturday and manufactured momentum wouldn't last.
After a shanked punt from Griffin in the fourth quarter, N.C. State's Dunn missed a 37-yard field goal. Unable to take advantage of the returned mistake, Stone threw the interception to N.C. State's McNeill.
While the Wahoos fought until the very end — adding a touchdown pass to Lavel Davis Jr. on a 17-play, 89-yard drive — the mistakes were too abundant to overcome.
"I would say, yeah, a little bit surprised but it wasn't an accident or a fluke," Stone said of the team losing. "We didn't prepare well enough to win, and we didn't have the right mindset coming into the stadium this morning."
Knight bulldozed into the end zone from two yards out to punctuate the Wolfpack's 38-21 victory. The rush gave him two scores on the day and pushed him over 100 yards against UVa's proud defensive unit.
There were no moral victories this Saturday.
Be the first to know
Get local news delivered to your inbox!