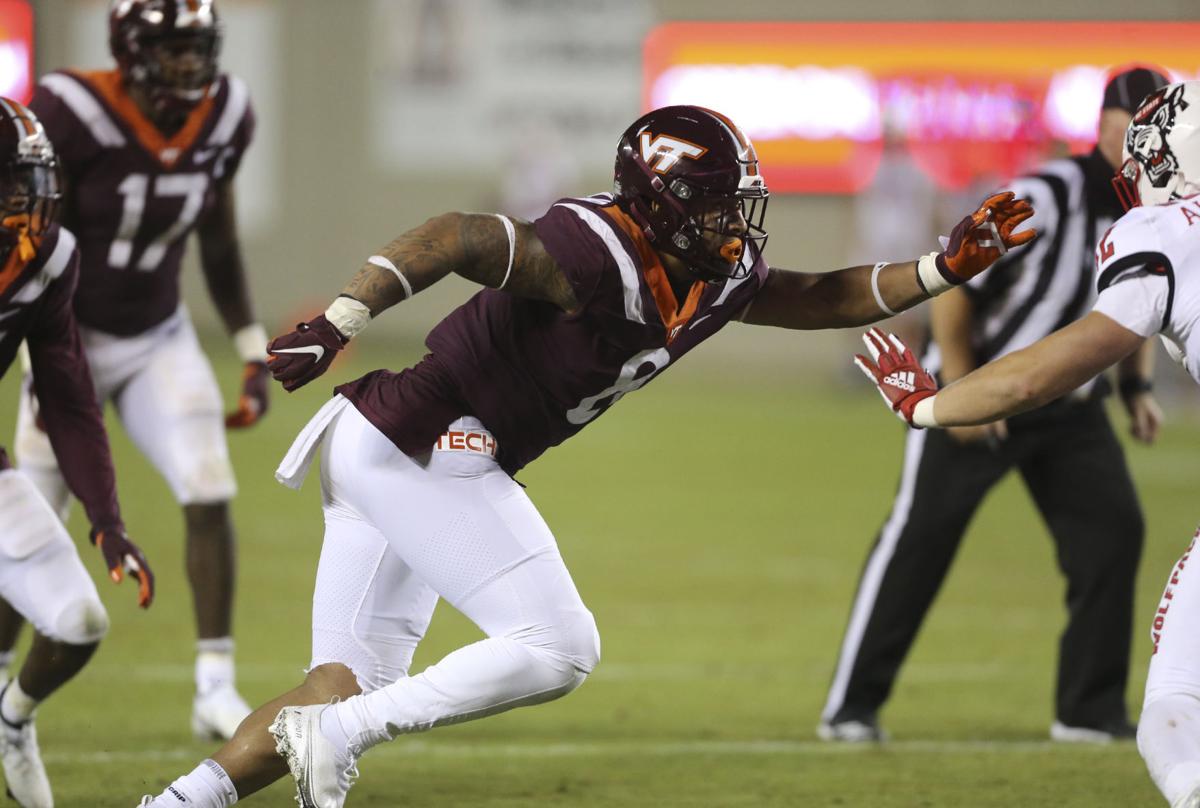 BLACKSBURG — Virginia Tech defensive end Emmanuel Belmar can envision Boston College calling an audible on Saturday.
The Eagles come to Blacksburg having thrown the ball around the field this season. They are averaging nearly 40 pass attempts a game — among the most in the FBS — and just two weeks ago threw the ball 56 times against North Carolina.
Quarterback Phil Jurkovec was one pass attempt shy of setting the school record in the 26-22 loss.
Tech coach Justin Fuente turned on the game film and said he was "a little shocked" to see Boston College run the ball only 19 times in the loss. Last year, the Eagles were one of only six teams in the country to run the ball more than 50 times a game.
Belmar knows the numbers, but he's not convinced that Boston College will totally abandon the run given Tech's struggles last week against UNC.
"You know, going off of last week what we gave up, they might come out running the ball, so we've got to be prepared for both just in case," Belmar said.
Virginia Tech gave up 56 points and 656 total yards of offense with 399 of those coming on the ground. North Carolina's running backs averaged 9.3 yards per carry, and that number would have been over 10 yards if it wasn't for a couple kneel downs at the end of the game.
"They definitely came out running the ball first, so you know, they established the run," Belmar said. "Once they established the run, it was kind of a lot of RPO, so you couldn't really get a rhythm for the game...They had us. They just kept running the ball and running the ball."
Boston College called a handful of RPOs against Pittsburgh last week, but they aren't a big part of the team's arsenal under new offensive coordinator Frank Cignetti.
Cignetti has moved away from the power run game they relied on under former coach Steve Addazio to a more pro-style offense. Cignetti has a long history of success working with quarterbacks including Aaron Rogers, Sam Bradford and Eli Manning.
He's got Notre Dame transfer Phil Jurkovec lining up in the shotgun a lot of the time and he's thrown for 1,181 yards (65.1%) with eight touchdowns and two interceptions. The 6-foot-5, 226 pounder has thrown for more than 300 yards in three of his team's first four games and is the program's first quarterback to have multiple 300-yard passing performances since 2012.
"He seems to me to be a big strong kid," Fuente said. "Like I've seen several blitzers bounce off of him. Kind of a Ben Roethlisberger type. A guy that's so big and strong that sometimes those guys have a hard time getting him down. I've seen him throw the old 15 yard in cut all the way across the field on a rope. He seems to have a big strong arm."
The Roethlisberger comparison is a common one, but Tech should get a boost this weekend with the defense inching closer to full strength. The Hokies expect to have starting free safety Divine Deablo back in the lineup, and are hopeful he won't be the only player to miss time recently back on the field.
Tech's defense goal is to put that poor performance against North Carolina in the rear view mirror on Saturday.
"We're going to live with mistakes and we're going to move on," Belmar said. "You can't dwell on it. It didn't turn how we wanted it to or how he wanted it to, but it's all right. We've just got to keep pushing forward and there's better days ahead."
Be the first to know
Get local news delivered to your inbox!