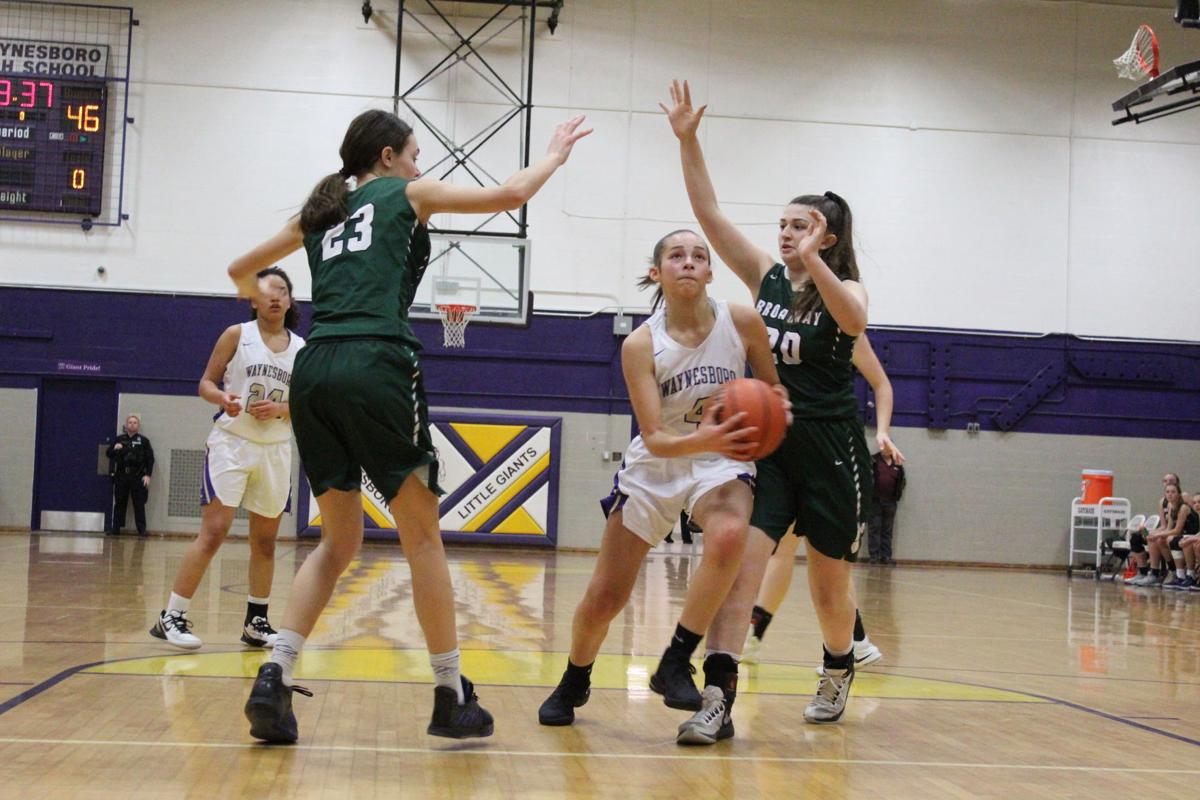 With the recent decision by the Virginia High School League to push back the start of of the 2020-21 athletic year until December, athletes coaches and athletic directors now have hope that games can be played despite the COVID-19 pandemic.
As preparations for the season begin, one major question will have to be answered.
Will there be enough officials to hold the games?
Marty Fontenot, the president of the Piedmont Basketball Official Association, has concerns.
"This is a question that we're asking ourselves, because we simply don't know," he said. "Our biggest concern now is moving [seasons] would be any crossover sports and if there are officials who will be working other sports."
Currently, the PBOA has 75 officials available to cover high school basketball games in Central Virginia throughout the winter. They have games scheduled six nights a week, and on Tuesdays and Fridays, they are responsible for more than 30 games a night at the public and private school level.
Although no officials have approached him yet, Fontenot expects that some of his officials will opt out of working this coming season.
"We have a fair number of officials who fit into the "at risk" category with pre-existing medical issues, and their age," Fontenot said. "Other officials have raised concerns, not necessarily for themselves, but they either live with or are caregivers for loved ones who may be at a higher risk."
Another potential issue could be officials that officiate multiple sports. Fontenot estimates that the PBOA has 20-25 officials working in his organization that work other sports.
"We were already spread thin in terms of covering the volume of games with our 75 association members pre-COVID," he said. "With the expectation that a fair number of officials may opt-out of officiating this year, we may have a difficult time covering the number of games."
This scenario is something the VHSL has acknowledged as well.
VHSL assistant director Tom Dolan addressed the issue last week during the League's Executive Committee special session and cautioned member schools.
"People who officiate these contests, should they have an outbreak amongst those individuals or individual groups and they have to shut down, your sports are going to shut down," Dolan said. "There are going to be some serious concerns about, not necessarily the athletes, because we hear they're not transmitting as readily as other groups, but you've got to think outside the athlete box and think about some of the other people that are involved in these events."
Executive director Billy Haun said the VHSL plans to speak with organizations around the state to devise a plan moving forward.
"I would anticipate that we will have some officials that will sit out the year because of some preexisting health conditions or concerns they may have about feeling safe, so we'll talk to our officials about that in the future," Haun said. "There was already, before we got to COVID-19, a shortage of officials for games, so this could make the situation a little more difficult."
Charlottesville resident Alex Inman spends his winter nights working high school basketball games and admits that this year will be challenging.
"My concern about an altered season isn't so much possible overlap between seasons as it is just the general disruption to everyone's schedule and what that means for refs being able to work games," he said. "I don't know that anyone can accurately predict whether officials will be more or less available than normal. Most refs manage their game schedule around their real life work schedule. Will their jobs be normal? It's easy to assume some refs will have more time on their hands to work games, but by the time the season rolls around, will that be true?"
Scott Walk has officiated high school volleyball games for 20 years in the Piedmont Association of Volleyball and also works men's and women's college games as well as travel volleyball tournaments. He said with the compressed high school and potential college schedules, he would officiate a match every day or would potentially have to choose between high school or college assignments.
"I think the move to spring will have a major impact," Walk said. "Many of our officials work a different sport in the spring or do other volleyball matches, like USAV Juniors tournaments and men's college volleyball in the spring. So, this will put a strain on the system of finding qualified referees to work the matches."
Inman said a number of officials in the PBOA also officiate football, baseball, softball, lacrosse and other sports, which could cause scheduling issues for officiating organizations across the board
"It will be interesting to see which sports it affects the most," he said. "It does have the potential to be a big issue for basketball, because we typically have games six days a week and under normal circumstances, our local association can be stretched then. But if schedules are dialed back, maybe it won't be as big a deal. What they do with sub-varsity schedules may have a lot to do with that."
Fontenot said the officiating during a pandemic will be challenging, especially in terms of game management. Will officials have to use masks on the court? In basketball, the ball changes hands among players and officials multiple times. Will the ball have to be changed out and cleaned after every dead ball, much like football does during rain games, to assure safety measures? What happens with potential exposure of an official to a player, coach etc.? Who is tracking COVID-19 exposure and what's the consequence (quarantine time if a player tests positive)? How long would an official need to not work or be quarantined?
Within the PBOA, Fontenot said the discussions have already started. Officials will likely use electric whistles instead of mouth whistles.
There's also discussing whether to keep officials in pods of two or three to limit potential to exposure of the coronavirus. With limited availability and access to gym space prior to the season, the PBOA is looking at options to adequately train officials through online instruction.
"Our biggest concerns are keeping our officials safe and healthy," Fontenot said. "We are likely to see fewer overall games, but a condensed schedule in which a lot of games are played in a short time frame in preparation for the possibility of the season shutdown prematurely. We certainly see a lot of changes/adaptions on the go, having to be extremely flexible to changing schedules. Nonetheless, we are committed to providing the best service we can to our local student-athletes and coaches, provided it is safe and appropriate for our officials."
Inman and Walk agree that some colleagues might opt-out because of safety concerns, but both expect to be calling games when the teams return to play.
"I think so long as the protocols are in place — masks and social distancing, limiting the number of fans and temperature checks, I would be comfortable reffing," Walk said. "My biggest concern is the safety of all the participants and fans at these events. If we can take steps to improve the safety, I would hope that high school sports could resume. I think they are an important part of student and community experiences. I would hope all parties could work together to get sports back to our community in a safe environment."
"More than anything, I just want to be out there," he said. "I'm like a player or a coach. It's what I do during basketball season. After 30-plus years of officiating, it would be very strange to be sitting at home on a Friday night."
Be the first to know
Get local news delivered to your inbox!